Safer Schools Award
Integrated College Glengormley are proud to recognised as a Safe School at the annual Onus Awards. This award recognises the importance that we as a school want to place upon ensuring our school is a safe space for every member of our school community. 
Through this award we hope to raise awareness that domestic violence and abuse of any kind will not be tolerated and that we can play our part by sharing this key message and signpost any member of our community towards appropriate supports, if they have experienced domestic abuse.

We were proud to attend the Onus Awards ceremony where we were recognised as a Safe School.
A commitment to well being
Within our school community, we prioritise student and staff well-being and understand that until barriers to learning are removed, effective learning will not take place.   We have invested significant resources into staff development, supporting staff with the implementation of the Take 5 well-being model.  This is a Public Health Agency endorsed approach to promoting mental health and well-being.  As a Take 5 school we seek to promote mental health, social health and emotional health.  The Take 5 model is based upon 5 key areas: Connect, Keep Learning, Be Active, Take Notice and Give.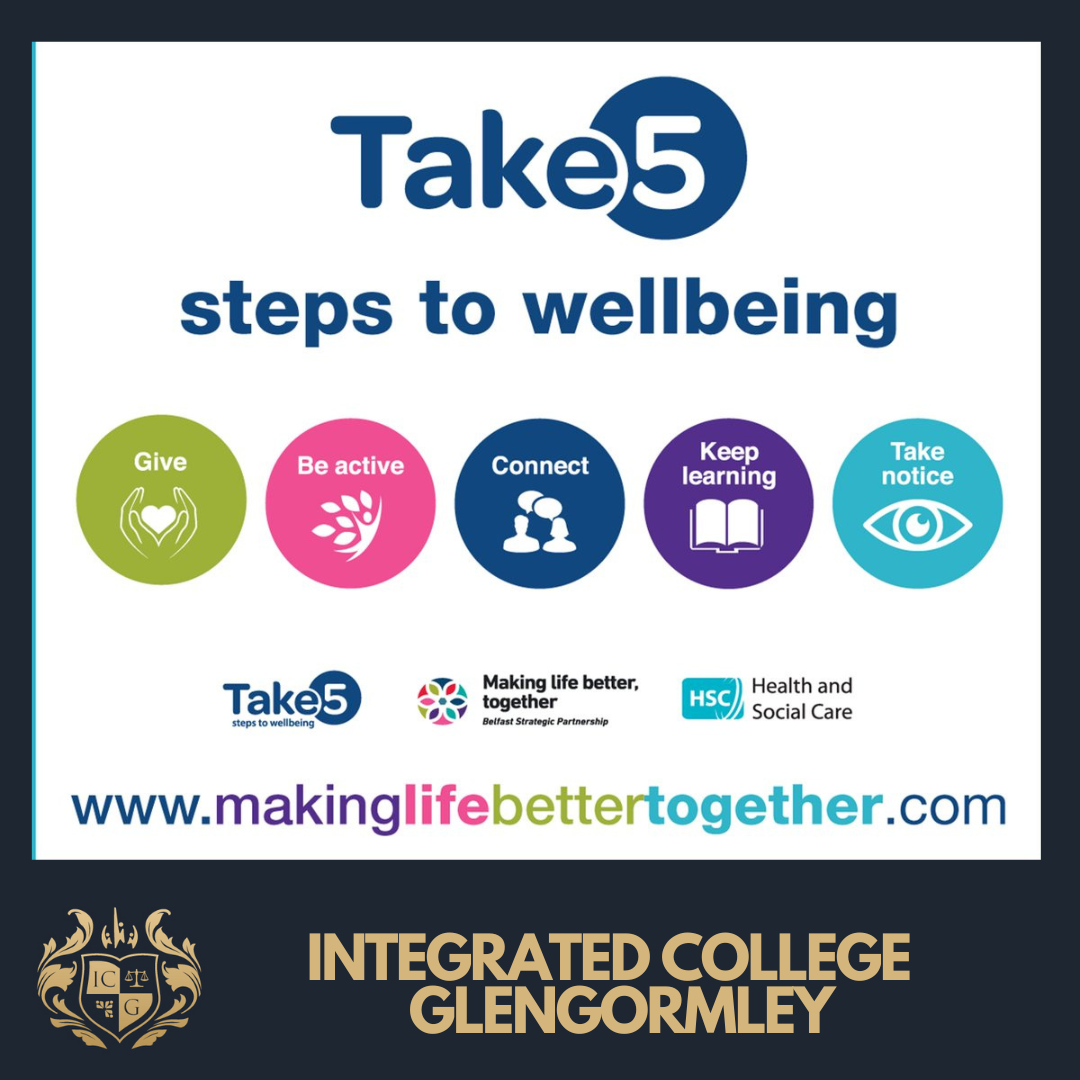 Our Wellness Wednesday focus within our weekly pastoral programme allows staff to promote key messages regarding mental health, open up discussions and negate stigma which is often associated with mental health issues.  Furthermore by visiting mental health on a weekly basis, it allows us to embed the 5 key areas into our whole school ethos.
We also recognise that pupils may experience difficulty and require additional support for a vast range of issues.  Parents/guardians and pupils can request a referral to the supports listed below via their Form Tutor, Head of Year or Designated Teacher. 
Church Mentoring: A team of volunteers from a local church deliver weekly mentoring sessions, both in a group sessions and 1:1 sessions.  
EA Mentoring: A locally based EA youth worker facilitates group sessions on a weekly basis.
EA Counselling: An EA qualified counsellor facilitates individual counselling sessions on a weekly basis.
Furthermore, we work in partnership with a range of external agencies and utilise their support to best meet the needs of our students within a caring and empathetic environment.

I love GHS. My favourite subjects are Art, Maths and P.E. and the teachers are really nice. I have made lots of new friends. I have really enjoyed high school and I like getting to move around the school instead of staying in the one classroom. It's really great.
CARSON BLACK
Year 9 from Ashgrove PS